Nikolay Davydenko remains unconvinced Andy Murray has what it takes to win a grand slam despite his impressive first round victory over the Russian at Wimbledon.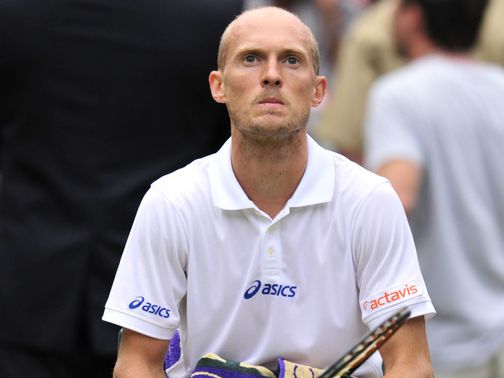 Murray went into the match with questions marks over his form and having had to defend himself against accusations that he exaggerated his recent back injury.
Davydenko stoked the flames with his own comments about Murray's on-court demeanour, adding the Scot was not good enough to win one of the sport's four major titles.
And although Murray was utterly dominant, racing to a 6-1 6-1 6-4 victory on Centre Court, Davydenko was unmoved.
Asked if he still believed Murray would not be able to win a slam, Davydenko replied simply: "Yes."
The Russian was also grudging in his appreciation of Murray's performance, saying: "I didn't play against him for a long time so I don't know if it was his best. It would be the best tennis if he beat me 6-0 6-0 6-0, but he didn't do that."
Murray looked on the money from the first shot, reeling off nine straight games after Davydenko had held serve at the start of the match and astonishingly he did not make a single unforced error in the first two sets.
Everything in the Murray game was working well, but particularly his backhand slice and forehand, with which he powered winner after winner past Davydenko.
The 31-year-old said: "He played fast, he served well, he pushed me back on the return, he made less mistakes. It's always what he does. And I started to make mistakes from the baseline, I felt like I had no confidence.
"In the third set I relaxed a little bit and I tried to get a bit more control from the baseline but it was tough. I don't like so much to play on grass."
Davydenko has slipped to 47th in the world rankings from a high of number three and has never really recovered from a broken wrist he suffered in 2010, which came only months after he won the Barclays ATP World Tour Finals the first time it was held in London.
The match did enable him to reach a personal milestone, though.
Davydenko said: "For me it was perfect. It was my first time on Centre Court. In every other grand slam I played on the biggest court already many times. Here it was tough, I never had good results."
Murray was happy to silence his critics, at least for now, but mostly he was just pleased to get through the match after having to wait two weeks since his second-round loss at Queen's Club for a competitive encounter.
He said: "I just wanted to go out there, play well, keep my focus, and not worry about the other stuff. I think I did a good job of that. It's time to let the tennis do the talking."
FKGBS9KQJQ9G