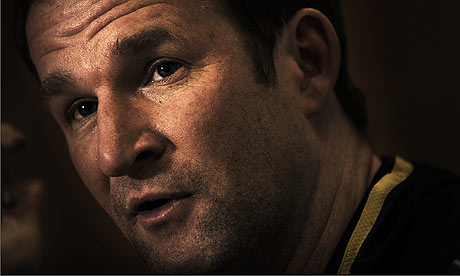 Cup not a distraction to promotion push
Spurs will be targeting 'chance to win silverware'
Harry Polkey




Simon Grayson believes tomorrow's trip to White Hart Lane will prove a far more difficult challenge for

Leeds United

than their

FA Cup

tie at Manchester United. Jermaine Beckford humbled Sir Alex Ferguson's side in the third round at Old Trafford but Grayson is anticipating that

Tottenham Hotspur

will be far more focused on getting a result.

"The expectancy level is obviously slightly higher, but Tottenham are one of the group of teams who, as well as aiming to qualify for the Champions League, will be targeting this competition as a major opportunity to win silverware," said the Leeds manager. "They played earlier this week and again next Tuesday, so I expect they'll make some changes, but probably not as many as Manchester United made. They'll be close to their strongest."


Grayson appeared genuinely amused when it was put to him that given Leeds, who are leading League One, have failed to win any of the three games they have played since the victory at Old Trafford, an ideal outcome in the fourth round match might be defeat with honour. "You try telling that to the chairman. Tell the [4,500] fans we'll be taking to White Hart Lane, or the 9,000 we took to Old Trafford, that the Cup is a distraction.


"If we lose but come off with no regrets about the way we played, then so be it, sometimes you have to say they had that extra quality – but winning would be better."


Having missed out on promotion in the play-off semi-finals last season, plenty of Leeds supporters would swap progress in the Cup for a league win, but Grayson insists performances have not fallen off. "Results have suggested we have not totally focused, but I'm more than happy with how we have played. We've conceded a couple of sloppy goals, which we've not been doing in the early part of the season, but we've created good chances and just haven't had the breaks.


"You go through patches when you get results you possibly don't deserve, which was sometimes the case in the first part of the season, and over the past three games we probably deserve better results than we've actually had. You have to live with that."


Leeds will approach the game in the same relaxed but determined way they approached the tie at Old Trafford, he said. The former Leeds players Robbie Keane and Danny Rose could feature against their old club, though Aaron Lennon's groin injury means a third misses out.


"We'd love for the likes of Keane and Lennon to still be in our team, but that's football," said Grayson, a little wistfully. "We went through that episode of selling our best players just to survive, and other clubs benefited, but we have to move on. Other players are coming through who will take the club forward, and this is another chance for them to show what they're all about."