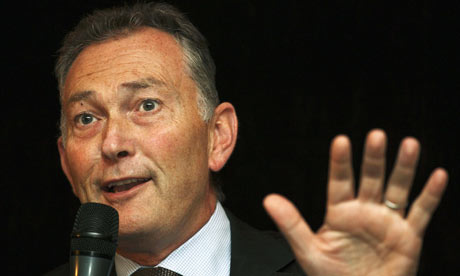 • 'I can't imagine our clubs signing up' says chief executive
• Uefa expected to deliver detailed proposals by next summer
The Premier League has unveiled new rules that will ban clubs at risk of imploding financially from buying new players or increasing their wage bill, but vowed to fight Uefa plans to introduce budget caps.
The chief executive, Richard Scudamore, said the league would take a more proactive role in ensuring clubs were not in danger of tipping into administration if auditors flagged up fears they might be unable to continue as a going concern.
In March Liverpool's auditors, KPMG, said the impending expiry of credit facilities, since renewed by the club's owners, indicated "the existence of a material uncertainty which may cast significant doubt on the group's and parent company's ability to continue as a going concern". Other clubs that might have sounded alarm bells under the new rules include Portsmouth and West Ham. Clubs will be required to submit annual accounts and budgetary information for the year ahead every March.
"If, on assessment, the board believes the club is at risk of not being able to meet those obligations then it has to step in and agree a budget for the running of that club," said Scudamore. "And it has the ability to embargo any transfers or, and I think this is a first, to stop clubs renegotiating upwards any player contracts and remuneration. You can't add to the most significant of your cost bases, which is your talent base."
The Premier League, which has modelled the new tests on Uefa's existing requirements for entry into the Champions League or Europa League, believes the new rules will act as a brake on reckless spending. Scudamore has been forced to walk a fine line, balancing his own free-market tendencies and the natural distaste of his clubs for regulation with the shift in the political climate at Uefa and Fifa and the need to respond to government concerns about the future of the game.
"Our view is the current owners are just the current custodians and the clubs will be there before them and long after them. It's absolutely right that the clubs are sustainable and that they are able to meet their obligations to fans and the competition," Scudamore said.
He said the new rules, allied to the new regulations regarding home-grown players, were the "end of a chapter" following a period of intense debate over the future governance of the game. But that book is set to be reopened as early as tomorrow, when Uefa will begin the process of introducing new financial controls that it hopes will limit the ability of rich benefactors to artificially inflate the market.
Uefa's executive committee will convene in Nyon to discuss the new rules, which from 2012 would require clubs to break even and spend only what they earn from football-related income such as ticket sales and television deals. Money spent on developing infrastructure, stadiums and youth academies would be exempt.
Uefa's president, Michel Platini, said last month that the Chelsea owner, Roman Abramovich, was among "85-90%" of club owners who told him they wanted new controls. Uefa is expected to establish several working groups to deliver detailed proposals by next summer.
But Scudamore said he expected Premier League clubs to fight the proposals. "What Uefa are doing are ratifying concepts at this point. No one has seen the manual that contains any of this. I can't imagine that our clubs will be signing up to the detail," he said. "They may well be making warm noises when it comes to the principle but they won't sign up to the detail if it comes to an absolute regulation of their income."
He said the Premier League supported "80-90%" of Uefa's stance on financial fair play. "The clubs are not looking to move to a regulated space that links spend to income. It's that last 10% of the detail that we're not supportive of and I'm not sure necessarily that individual clubs are."
He said that Uefa's proposals would be counter-productive because they would simply mean the biggest clubs getting bigger and leave the rest unable to catch up.
"The biggest clubs are the biggest clubs because 121 years of history has made them that big. But we do not buy into the idea that you chop away the ladder from those who have got a legitimate benefactor who can afford to break into the top group," he said.
"If AFC Wimbledon make it all the way back through the ranks and somebody wanted to attach their money to that club, then why shouldn't they be able to reach the top and get into the Champions League? You have to keep the dream alive."