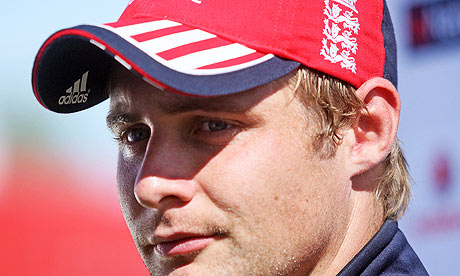 • Brett Lee claims victim before Trent Bridge one-dayer
• England count cost of cranking up bowling machine
Australia's fast bowler Brett Lee, scourge of England in their fourth successive one-day defeat at Lord's on Saturday, has claimed another victim before the start of today's floodlit international at Trent Bridge.
England's attempts to replicate Lee's ferocious inswinging yorkers on a bowling machine at the national performance centre in Loughborough brought only calamity as Luke Wright was struck on the left toe while batting and needed stitches.
The injury to Wright, one of England's more energetic performers in a largely doleful series, last night caused England to call up Hampshire's all-rounder Dimitri Mascarenhas. Mascarenhas is likely to play unless England opt for the slow-bowling combination of Graeme Swann and Adil Rashid.
Cranking up a bowling machine to full speed is an accepted way — indeed the only way — of preparing England's batsmen to face Lee at his most ferocious, so no blame was being attached to the head bowling coach at Loughborough, Kevin Shine. Nevertheless, it was another freak injury to follow the purblind circumstances which saw Joe Denly miss the start of the NatWest series after a tackle from behind by Owais Shah.
Wright's enthusiasm has brought only limited rewards, with 79 runs and three wickets in his four games. But with Paul Collingwood resting and Andrew Flintoff embarking upon a long-term recovery from a serious knee operation, his absence is a severe blow as England desperately seek to gather some self-belief ahead of the Champions Trophy later this month in South Africa.
As for Lee, there is even talk of his ambitions to bowl the first 100mph delivery in England. However much many will scoff at the notion — he touched 95mph at Lord's last weekend — he is in peak form after being injured for much of the Ashes and being contentiously overlooked for the final Test at The Oval in which England took the series.
Australia's bowling coach, Troy Cooley, who is temporarily in charge of the squad while Tim Nielsen takes a break, said: "Brett's got the most ferocious inswinger in the game at the moment. We still think he's got a little bit to go and so does he."
The Australian batsman Mike Hussey insisted that the chance to take the series 7-0 was "a motivating factor". He said: "It's been great to win the series but we want to keep the momentum going. We still think we can improve a lot and we are going to have to improve a lot more to be right up there in the Champions Trophy.
"I think we are more of a working-class team now. When I first started there was so much confidence, so much presence about the team. We would expect to win every single game and win it well. In this team everybody has a specific job and we all have to do that job well."