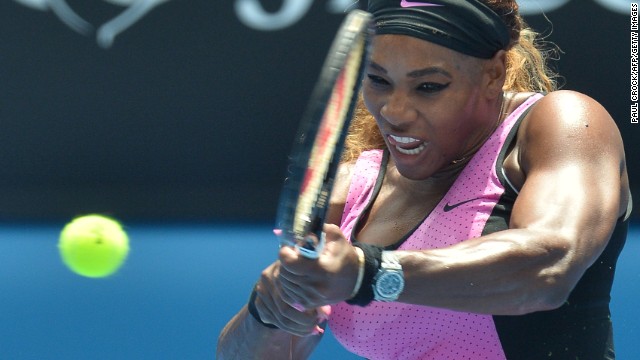 World No. 1 Serena Williams won two out of four grand slam titles in 2013
(CNN) -- Serena Williams and Novak Djokovic might have hit upon a formula to contend with the searing heat at the Australia Open -- beat your opponents as quickly as possible.
A record-equaling nine players retired from their first round matches as temperatures lingered at a stifling 40 degrees Celsius, matching the highest number of withdrawals from a single round of grand slam set at the 2003 U.S. Open and Wimbledon 2013.
Complaining players, vomiting, fainting, melting bottles and burning feet have marred the first few days of competition in Melbourne, but world No. 1 Williams and four-time champion Djokovic were both in a hurry as they registered commanding wins.
Williams, a five-time winner of the year's opening grand slam, beat 104-ranked Vesna Dolonc 6-1 6-2, while men's second seed Novak Djokovic defeated Argentina's Leonardo Mayer 6-0 6-4 6-4.