Jamaican has not been at his best and knows Sunday's final on a fast track may see all eight men running under 10 seconds
Anna Kessel at the Olympic Stadium
guardian.co.uk,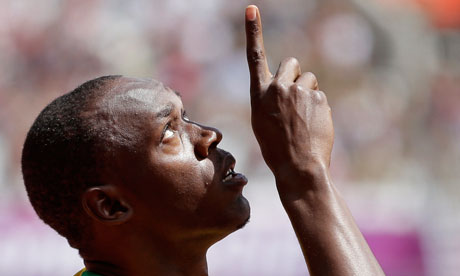 Usain Bolt points to the sky before his 100m heat on a scorching track at the Olympic Stadium where his rivals all posted competitive times. Photograph: Matt Slocum/AP
In the buildup to these Olympic Games all talk of the men's 100m focused on who would win: Usain Bolt, the defending Olympic champion, or Yohan Blake, world champion, young upstart and the man who comprehensively beat Bolt over 100m and 200m before these championships. But after two days of competition in the Olympic stadium in which crowds have witnessed blisteringly fast times run on the London track, there seems to be a new question on everyone's lips: no matter who wins it, how fast will he go?
The triple world record holder Bolt has always maintained that he believes 9.4sec is possible, having already recorded 9.58 at the 2009 world championships in Berlin. This season Bolt has not looked so imperious, with Blake occupying the No1 spot in the world rankings for his Olympic trials-winning 9.75.
Indeed the men's 100m field is looking its most diversely competitive in years – even leaving Bolt and Blake aside, five other sprinters have run sub-9.90 times this season in Justin Gatlin, Asafa Powell, Keston Bledman, Ryan Bailey and Tyson Gay. Such is the depth of talent that there is even talk of the Olympic final being the first in which all eight sprinters run under 10 seconds. In short, there is a good chance that 80,000 spectators could be about to witness a world record in the distance.
Already the crowds have been wowed. In only the first round of the men's 100m, and despite slowing at the line, the former Olympic champion Gatlin did 9.97, the fastest time in Olympic history for that stage of the competition. In the following heat the American's team-mate, Bailey, went faster, winning his heat in a personal best of 9.88 – joint-10th fastest time in the world this season. The previous day there were 15 personal bests in the women's heptathlon hurdles while in the first round of the women's 100m six women ran sub-11 second times.
Even the athletes themselves were somewhat taken aback. "It was surprisingly easy," said Bailey, despite what he described as a slow start. "This track is super fast," said Gay, the second fastest man in history. While Dwain Chambers, the Briton who had not been unable to meet the Olympic A qualifying standard of 10.18 this season – his best ahead of these Games was 10.25 to win the Olympic trials in Birmingham – ran over two-tenths of a second faster to win his heat in 10.02. "I don't know where 10.02 came from," admitted the 34-year-old. "I've been running 10.2 all summer, but I know that isn't me. I've just put it together at the right time, but I wasn't expecting to run that fast."
Could the answer, in part, be something to do with the use of groundbreaking technology improving an athlete's speed on the track? At the Olympic test event, in January, Britain's Harry Aikines-Aryeetey spoke about what he believed to be a unique track surface. Wherever he competes, the former world junior 100m champion takes a cricket ball to test the track for hardness – for which read, in general terms, speed. "On a normal track it bounces to knee height. On [the London] Mondo track it comes up to your hip, so everything you put into it you get back" said Aikines-Aryeetey.
So is this London track distorting results? "It's certainly fast," said the triple jump world record holder Jonathan Edwards. "But then it's always been something that happens in championships that tracks are fast, and in London that certainly seems to be the case. It also does help that the athletes are getting a fairly healthy wind behind them on the home straight." Quizzed on whether a track can ever be too fast Edwards said the theme brought to mind the controversy over Tokyo's 1991 World Championships track which was alleged never to have been approved by the sport's global governing body, the IAAF. At those championships three world records were set, Carl Lewis in the 100m, Mike Powell in the long jump – breaking Bob Beamon's 1968 leap to record a distance of 8.95m – and the men's 4x100m relay.
Even Bolt has dismissed fast tracks before. Last year at the Diamond League in Eugene there were nine sub-10 second runs from the world record holder's rivals, prompting scorn from the Jamaican. "Listen to me ppl [people]," Bolt tweeted, "that's the same track last US trial was kept and everybody ran fast and them they couldn't repeat ok so please."
If fast times continue to be posted during these Games, could there come a point when spectators wonder if a track can be too fast? "No, I don't think people would think that," said Edwards. "They'd celebrate the moment, if Bolt runs 9.4, or Blake runs 9.4 I don't think anyone's going to say, 'Oh, it was a fast track, it doesn't count.' I don't think so."
Edwards pauses. "Unless, almost like those [now banned] swimsuits, if people start breaking lots of world records, but we're a long way away from that yet."