Jamaica's Usain Bolt defended his 100m title with an Olympic record of 9.63 seconds, the second fastest time in history.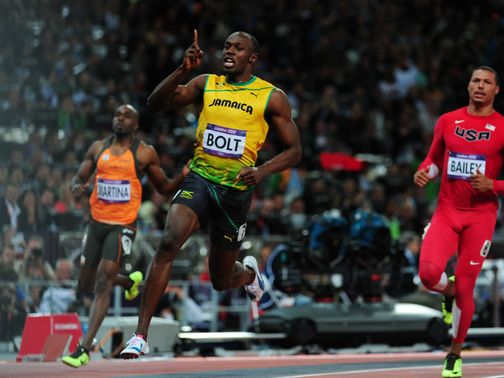 Usain Bolt: claimed 100m gold with second fastest time in history
Bolt did not get the best of starts but caught and then pulled away from his compatriot Yohan Blake and the Americans Justin Gatlin and Tyson Gay in the second half of the race.
Blake, the world champion and Bolt's training partner, held on for silver in 9.75.
And 2004 Olympic champion Gatlin, who has served the second doping ban of his career since his triumph in Athens, edged out Gay by one hundreth for the bronze in 9.79.
"I was slightly worried about my start, I didn't want to false start again," said Bolt, a reference to his disqualification in the final of last year's World Championship.
"I think I sat in the blocks a little bit so I don't think it's the best reaction in the world but I executed and that was the key.
"My coach said, 'stop worrying about the start, the best part of your race is at the end, that's where you rule'.
"So I stopped worrying about the start and I executed."
Bolt's winning time was better than the 9.69 he won with in Beijing but behind the world record 9.58 he clocked when winning the world title in Berlin in 2009.
At the age of 25, he already has four Olympic gold medals and has the chance to add to that haul in London when he defends his 200m and 4x100m relay titles.
Asked about the people who had doubted him, Bolt said: "I'm not concerned. I've said it from the start, people can talk, all they can do is talk.
"I tell you people that when it comes to the championships it's all about business to me and I brought it."
Blake, who had beaten Bolt at the Jamaican trials in both the 100m and 200m, was happy with the silver medal.
"Usain has been to this level and he knows what it is," he said. "He's the fastest man in the world and I have to give him thanks for motivating me.
"A silver medal - what more can I ask for?"
The British trio of Adam Gemili, Dwain Chambers and James Dasaolu all missed out on the final, bowing out at the semi-final stage.
Chambers went fastest in 10.05 to finish fourth in his heat but that was not quick enough to claim a fastest loser spot.
The 18-year-old Gemili, recent winner of the world junior title, finish third in his semi in 10.06, while Dasaolu (10.18) was seventh in the first semi.
Chambers, whose drugs ban in 2003 ruled him out of the Olympics until the BOA's bylaw was overturned earlier this year, said: "Part of me is disappointed because I wanted to make the final and based on the time I ran yesterday (10.02) that would have got me through.
"But that's just the way the cookie crumbles sometimes. It's a bit unfortunate that it didn't happen today. I am just happy to be here, I've never smiled so much in my life."
On his future, Chambers added: "We'll see what opportunities present themselves (after London) and then I will just relax, spend some time with my family and see how things feel.
"This has been my focus and I am grateful to have fought this long to get to this position.
"If I can continue enjoying it and still feed my family then I will carry on as long as I can.""