Catalan Dragons 19-12 London Broncos
Press Association
The Observer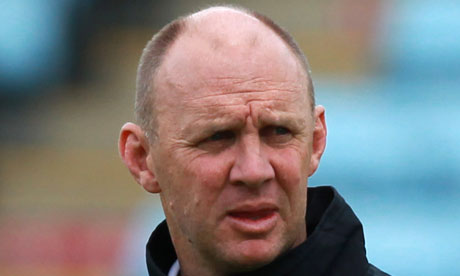 Tony Rea felt his London Broncos side contributed to their own downfall in the defeat by Catalan Dragons. Photograph: Jan Kruger/Getty Images
The London Broncos coach, Tony Rea, felt his side contributed to their own downfall in the defeat at Catalan Dragons. Rea's men turned in a much-improved display following their 44-6 defeat at home to Wigan last weekend, but they remain bottom of the Super League.
Rea said: "If you're marking us against last week's performance then, yes, it was an improvement. If you're marking us against what we're capable of, then that performance just isn't good enough. We're not happy and you could see out there that there was a number of opportunities that we threw away."
Rea bemoaned his side's lack of execution during a game in which they held a six-point lead following early tries from Tony Clubb and Scott Wheeldon. He said: "There were a quite a few chances that we didn't take that we should have. We need to look at those and work out why we didn't take them and work out how to take them.
"We can do that as a group and that is the encouraging thing. I understand now why everyone is saying outside the club that there is so much belief in this team externally – the thing we need to change now is to get that belief internally."
Although victory propels the French outfit back to third in the table, their coach, Trent Robinson, was again left fuming at a video referee decision that went against his side when Remi Casty was adjudged to have obstructed a Broncos defender after 19 minutes. The Dragons had three tries ruled out last Friday in the 20-15 home defeat against St Helens.
He said: "We're clearly not getting the rub of the green right now. That was a try tonight – I've seen it five times now and it is a try. You just can't get those ones wrong.