• 38-year-old will attempt one final training run
• Osteoarthritis in foot may force withdrawal
Anna Kessel
guardian.co.uk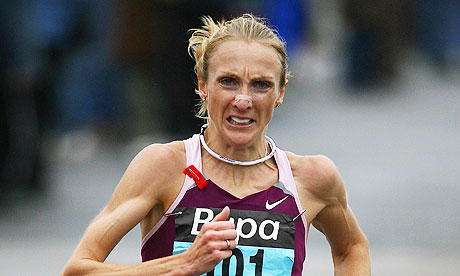 Paula Radcliffe, due to run the marathon in the London Games, desperately wants a first Olympic medal. Photograph: Julian Finney/Getty Images
Paula Radcliffe is 24 hours away from discovering her Olympic fate as the 38-year-old embarks on a desperate race to be fit for the marathon in eight days' time. Sources close to the world record holder say she is determined not to give up and will attempt one final training run before making a decision on whether to withdraw from the Games.
A spokeswoman for UK Athletics said: "No decision has been taken yet and won't be for at least another day or so as her injury continues to be monitored." That comment followed reports in the Mail on Sunday that the Briton's Olympic dream is already over. Radcliffe's camp say the door is not yet closed and that they will hold out as long as possible before making a decision.
Radcliffe, who is at her training base in Font Romeu, France, with the rest of the British endurance runners, gave no indication of her physical state on her Twitter feed, having sent excited messages all through Friday evening while watching the opening ceremony.
The Briton, who so desperately craves an Olympic medal having won titles at world, European and Commonwealth level, has been struggling with osteoarthritis in her left foot. Radcliffe admitted that the old problem which flared up again three weeks ago put her in "a bit of a panic".
With painkillers reportedly having little effect, Radcliffe immediately sought treatment in Munich from Dr Hans-Wilhelm Müller-Wohlfahrt. The specialist boasts a client list that includes Usain Bolt and is famous for his unorthodox methods including the use of homeopathy as well as the more unusual applications of cockerel crests, honey and calves' blood. Frustratingly for Radcliffe it seems that even "Healing Hans", as he is affectionately known, was not able to resolve the problem.
Radcliffe, arguably the most gifted distance runner Great Britain has produced, makes no secret of the fact that she feels her career to be incomplete without an Olympic medal. Having run a world best time of 2hr 15min 25sec, set in London in 2003, a mark that no woman has ever come close to, Radcliffe has to be one of the greatest athletes never to have struck Olympic gold.
Tragically her Olympic efforts have always been thwarted by bad luck, sickness and injury. Having missed out on an Olympic place as an 18-year-old by 0.07sec, Radcliffe's Olympic curse continued as she finished fifth in Atlanta over 5,000m and fourth in Sydney over 10,000m before famously dropping out of two finals at the Athens Games in 2004 suffering from exhaustion. In Beijing in 2008 Radcliffe limped across the line in 23rd place in the marathon, three months after suffering a fractured femur.
From spider bites to bunions, Radcliffe is famous for the obstacles that have hampered her career. If there is any chance at all that she can overturn the pattern of a lifetime, she will take the gamble and throw everything she has at making that Olympic start line on 5 August.