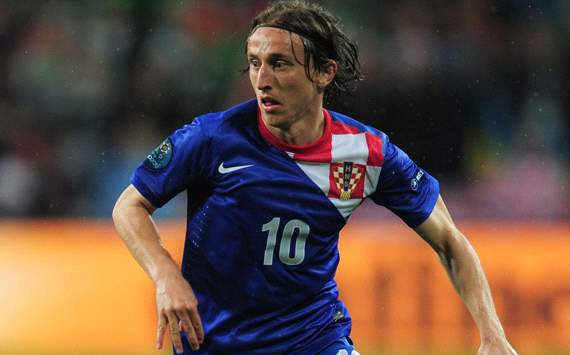 The £35m-rated Tottenham playmaker is a leading target for La Liga giants and will face potential future team-mates on Monday night when Croatia take on Spain in Gdansk
Amid all the praise Luka Modric has received this summer from colleagues and opponents alike, one comment made before Croatia's second Euro 2012 Group C match against Italy would have particularly hit home.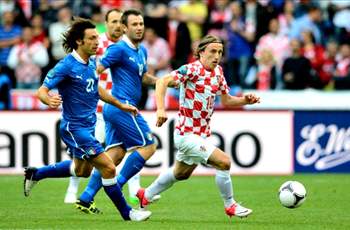 "[Luka] Modric is a great player, but in order to be above [Andrea] Pirlo he has to win something," said Cesare Prandelli, the Italy manager when asked to compare the two playmakers.
Modric is considered one of the leading midfielders in Europe yet at 26, and entering his peak years, he only has medals from the Croatian league to show for his career.
The Tottenham man is hoping for that to change next season as he plans to switch clubs following the Londoners' failure to qualify for the Champions League next term.
While Spurs refused Modric a move a year ago when he wanted to sign for Chelsea, they accept this time that the little maestro is likely to be sold should a club meet their valuation.
Tottenham want at least £35 million for the former Dinamo Zagreb man but they have every chance of sparking a bidding war as interest mounts from some of the biggest and richest clubs across the continent.
Manchester United have made Modric their top target to improve their midfield, a renewed bid from Chelsea can not be ruled out while Real Madrid, Barcelona and Paris Saint-Germain are all monitoring his situation.
On Monday night, Modric will have a chance to show his mettle against potential future team-mates when he plays for Croatia against Spain in their final group game of Euro 2012 in Gdansk.
Real Madrid, in particular, are keeping a watchful eye on a player Jose Mourinho believes can dominate matches in central midfield with his passing ability, awareness of his surroundings and comfort in taking possession under pressure.
The midfield battle against Spain, the reigning world and European champions, will be the ultimate test for a player long been considered in the same mould as the likes of Xavi and Andres Iniesta.
Croatia's place in the next stage hangs in the balance after a victory over Ireland and draw with Italy in their first two matches. If Slaven Bilic's side are to reach the last eight, they will need their own share of possession - and Modric will be the key to his team's use of the ball.
It will be a stern challenge against the best passers of the ball in the game, especially given the relative weakness of Modric's team-mates compared to Spain's star-studded squad in which Cesc Fabregas is usually named as a substitute.
But he still has the chance to show he belongs in such elevated company, to prove right those people who say he is perfectly suited to La Liga and has the potential to be one of the best creative players in the world.
Spain assistant manager Paco Jimenez claimed last week that Barcelona are scouting Modric during Euro 2012, saying: "He's playing very well; Barcelona have someone watching him.
"He was present at Croatia's game against Italy, but I can not say who he is."
Spurs would rather sell Modric abroad than to a domestic rival, and one of the two Spanish giants would be the perfect place for the him to win trophies and prove his ability as a deep-lying playmaker in the same bracket as Xavi and Pirlo.
They will also have no problem in more than doubling his current £50,000-a-week salary on his Spurs contract, which runs until 2016. Despite his falling out with Tottenham chairman Daniel Levy, he would leave with the club's best wishes were he to move to the Bernabeu.
Monday night's clash in Gdansk could prove the catalyst for the first bid of the summer for his services.