Fernando Alonso delivered a highly-emotional speech following a heart-stopping European Grand Prix victory that has put him back in control of the topsy-turvy Formula One world title race.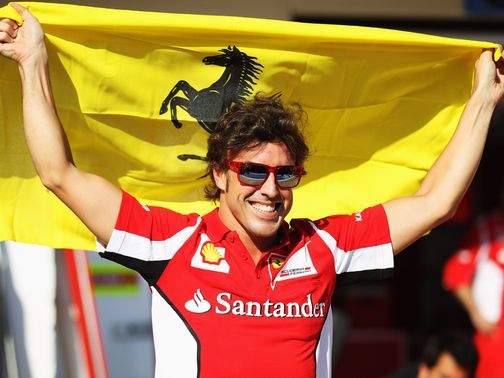 From 11th on the grid Alonso took the chequered flag for the 29th time in his career, and subsequently a Spanish flag from a marshal he waved with tears in his eyes on his parade lap.

When Alonso pulled his Ferrari over in front of a grandstand due to some late technical issue, he stood on its front and took the acclaim of the thousands of fans.

It was the same when he eventually stood on the podium several minutes later as he was mobbed by many en route, including team principal Stefano Domenicali.

It was Alonso's second win on home soil, his first in 2006 in the Spanish Grand Prix in Barcelona, but it was clear this one meant far more to him given the current economic crisis gripping his country at present.

Explaining the reason behind his tears, Alonso said: "It was more for my own feelings and the people in the grandstands.

"I know it's not the best time in Spain at the moment, with the crisis and all the problems that people have.

"To come to a grand prix you have to make something extra. There are families who have made long trips to come here, they sleep in their car or in a caravan or whatever.

"They try to enjoy, but then yesterday... it's not that you feel sad, but we didn't deliver what they were probably expecting.

"Today we paid them back a little bit - only a little - for the support they gave us, for all the problems that they are facing, all the worries the Spanish people are facing at this time.

"With the football team (beating France 2-0 in a Euro 2012 quarter final) yesterday we saw all the flags in the windows and on the streets, so there is some kind of pride in being Spanish right now with sport.

"With (Rafael) Nadal, with the Spanish football team, I felt I needed to do something, so today is a very emotional day.

"I'm feeling very proud to be a Spanish sportsman at the moment.

"Winning this race in Spain is probably the best victory I have ever felt in terms of emotions. Nothing maybe compares to this one."