• T20 captain has lost his best player, Kevin Pietersen
• Must put his faith in young players to step up

Vic Marks at Trent Bridge
guardian.co.uk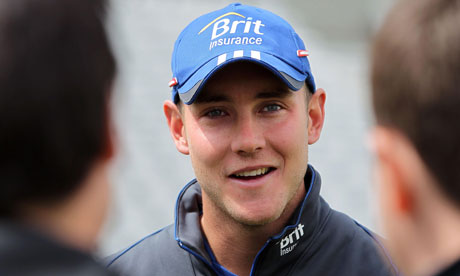 The captain Stuart Broad is not concerned about the youth and inexperience of England's T20 squad. Photograph: Ed Sykes/Action Images
Stuart Broad has one of the oddest jobs in cricket as captain of England's Twenty20 team. He can go four months in the ranks, then, as at Trent Bridge on Sunday, out he goes to toss the coin before seeking to mastermind victory in a format of the game that is arguably more taxing for a captain than any other. Then he returns to the ranks for a couple of months before heading to Sri Lanka at the end of September, when he will be charged with retaining the only ICC tournament England have won, the World Twenty20.
Broad has responsibility, but not much power, never the ideal combination. He has lost his best player, Kevin Pietersen – "I had no insight into him retiring," he explained on Saturday and any negotiations with him were "way above my head". Then he became probably the last man from the ECB to deliver the appropriate line on Pietersen's departure from one-day cricket. "He obviously was a really good player in the T20 side. He did some fantastic things. But now it's about players taking responsibility and standing up. KP scored consistent runs for us at No3 and opening the batting in T20 cricket. Now he's not there, someone else has to do that. It opens up an opportunity, which is exciting to see."
So Broad has a batting lineup that may be exciting, but which has scant international experience. As England have demonstrated in the two ODIs against West Indies, an effective opening partnership is vital, but neither Alastair Cook nor Ian Bell are part of the T20 squad. When asked who would open the batting at Trent Bridge, Broad suggested the management had not yet decided, which was not entirely reassuring (the assumption is that it will be Alex Hales and Craig Kieswetter).
Broad sought to make a virtue of England's youth. "I am not worried by the lack of experience. Every time I turn on the TV Jos Buttler has got 60 not out for Somerset. We all know from Jonny Bairstow's debut in Cardiff against India that he is as dangerous as anybody at striking the ball. We've got players who don't have a lot of international experience, but certainly have a huge amount of talent."
He can also take comfort from England's 2010 campaign in the Caribbean. "We were the only team who barely had any IPL experience and we were the only team who put in consistent performances. Yes, it would be great to see more England players in the IPL learning on sub-continent wickets, but it's not something holding us back a huge amount leading into this T20 World Cup."
Nor do England have many games to get their plans and personnel in order. Broad conceded that conditions in Durham and Manchester in September, when England play two more T20s against South Africa, would not have a great deal in common with Colombo a couple of weeks later.
So he suddenly has a lot on his plate. No wonder Broad is more positive about the rotation policy implemented by the England hierarchy than Jimmy Anderson was when he was omitted from the Edgbaston Test squad.
"It's unrealistic to think that your fast bowlers are going to play every single game in the next two years because we'd be about dead and about 5 ft 8. England have had a history of their fast bowlers getting injured at 31, 32 and not being seen again. It's great as a fast bowler to have that protection from the ECB. We are the only team that plays all-year round."
England can hardly be desperate for 50-over experience. It is hard to escape that form of the game at the moment. But they do need as much exposure as possible to the Twenty20 format if they are to have a realistic chance of retaining the ICC trophy in Sri Lanka. Here, at least, there was a glimmer of light in Nottingham after the downpours of the past few days.
Broad's young squad were able to train on a verdant, but dry, outfield and nets were available. Moreover, the weather forecast for Sunday has become less gloomy. As for West Indies, this is their last chance to achieve something after another disappointing overseas expedition. They have IPL experience galore compared to England, so we wait to see how beneficial that can be. Their next stop is Florida and two T20s against New Zealand this week. There is no respite for them either.