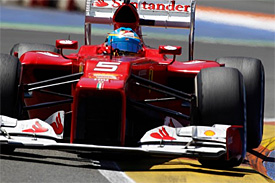 By Jonathan Noble and Glenn Freeman
Ferrari still cannot be satisfied with the job it is doing in Formula 1 this year, despite Fernando Alonso's sensational victory in the European Grand Prix that has helped him edge clear in the championship fight.
That is the view of Ferrari team principal Stefano Domenicali, who believes the fact that the Valencia triumph owed more to his driver's stunning efforts to charge through the field than having a dominant car needs to be taken as a sign that things still need to improve at Maranello.
"The car is at another level from what we were seeing at the beginning of the season, but it is not yet the car that is the quickest," explained Domenicali, who saw Alonso become the first double winner of the 2012 campaign.
"In my view Red Bull, or the Red Bull that I have seen this weekend, is the quickest in terms of pure performance. In the race it was leading comfortably, the pace was very strong. That is something that we need to look at,
"We know what our target is at the end of November, so we know that, in my view, they did something very good this weekend, and they improved the car. They had problems with reliability, but we are not, in my view, at the level that we should be in terms of the performance.
"So we have a lot to do, but we are leading the championship and that is something that will be very helpful for the people at home to keep working with more creativity and ideas."
Red Bull Racing introduced a dramatic update to its RB8 in Valencia - with the car featuring a heavily revised sidepod, diffuser and rear suspension configuration.
Those improvements helped Sebastian Vettel take a dominant pole position, and seize control of the race before being forced out with an alternator problem.
Vettel's retirement left the way open for his rivals to take advantage, and it was Alonso's great efforts – which included a brave move past Romain Grosjean after a safety car restart – to take an emotional victory.
When Domenicali was asked if Alonso ever surprised him, he replied: "We know he is the number one driver. That's the reason why he is here with us.
"I am very happy for him because he had such a pressure. Certain feelings you have just watching the eyes of a man that you know. So I was really so happy from my heart to see him fight like this. And I am also happy for the team because they were working in terms of the right strategy and the right calls; this is the strength of our team.
"But as I said, we need to stay cool, calm. This victory is very important because our main rivals in the championship had some problems. Reliability is a key factor this year, and you need to score points every time."