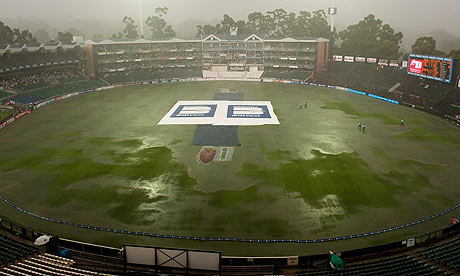 Rob will be here from approximately 7.55am, so why not prepare for the day's play by reading Mike Selvey's report:

The rain came an hour after lunch, curtains of it, obscuring the stand at the Golf Course End of the Wanderers. Fifteen minutes later, as the thunder crashed overhead, the ground was awash, and the PA was playing John Fogerty's old hit Have You Ever Seen the Rain.


The draining qualities of the ground, together with miraculous work by the groundstaff, meant that rather than an abandonment for the day play was able to resume three hours and 20 minutes later, although to little avail as after just three and a half overs the light closed in and off they all trooped again. Worth waiting for. It saved England from further embarrassment and may yet contribute to a draw and hence a win in this series that the tourists scarcely deserve.


No wickets fell after the evening resumption and only two in the 49 overs possible before the storm, the second of them Graeme Smith, who edged Ryan Sidebottom's away swing into the midriff of Andrew Strauss at first slip even as the storm clouds gathered. By then, though, South Africa's captain had diligently collected the 20th Test hundred of his career over the course of four and a quarter hours, an inevitability almost to those who recognise a supreme competitor who saves his best for the toughest of times.