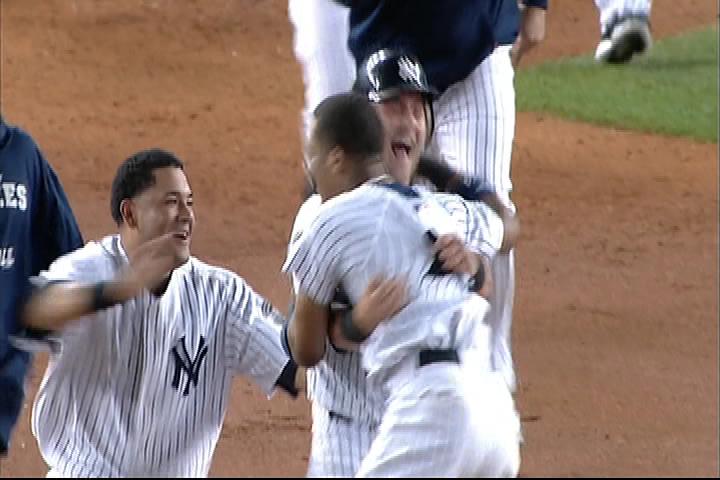 Matsui's homer in eighth ties it, Cervelli's hit in ninth wins it
NEW YORK -- A.J. Burnett could have started mixing his whipped cream cocktail the moment Hideki Matsui's game-tying home run cleared the fence, and he certainly should have been ready to pounce as soon as Brett Gardner stole second base.
When it comes down to the late innings at home, the Yankees seem to have this formula down pat. New York celebrated its 14th walk-off victory of the season on Wednesday, as Francisco Cervelli drove in the winning run, the final touch on a come-from-behind 5-4 victory over the Blue Jays.
"I think there's that feeling that you can always do it, because we've done it so many times," Yankees manager Joe Girardi said. "When guys have confidence, they're different players. There's no doubt about it. When you have success in situations, guys learn how to relax. The more success you have, the more you relax. That's what allows guys to do that."
It was Matsui's two-run homer in the eighth inning off Jays reliever Scott Downs that tied the game, waking up a slumbering Yankees offense that had gone dormant after a two-run spurt in the first inning.
Continually one of the club's top clutch performers, Matsui put some life back into the lineup with his 25th blast, a rocket into the right-field seats that made him the fourth Yankees player to reach the 25-homer plateau in 2009, tying a franchise record set in 1938.
"It's putting a good swing on the ball and hitting it right on the barrel," said Matsui, who also equaled Tampa Bay's Carlos Pena with his American League-leading 12th home run off a left-handed pitcher as a left-handed batter.
"I don't know how many curveball home runs Matsui's got to hit off of us before we change our mind on what we're going to throw him," Blue Jays manager Cito Gaston said. "He seems to kill us as far as hitting a big home run off us. He's done it a few times already."
Mariano Rivera held the Blue Jays scoreless in the ninth, and Gardner started the bottom half by lacing a full-count offering from Jason Frasor into center field for a single, then moving into scoring position with his 22nd stolen base of the campaign.
"It makes you feel good," Gardner said. "For me, I just need to continue doing what I've been doing and give the team ways to win."
Once New York's Opening Day center fielder, Gardner said that he is fine with his reduced role as the Yankees push forward through September. For Girardi, it was another reminder why Gardner could be so valuable in the postseason as a pinch-runner or late-inning substitution off the bench.
"It almost takes a perfect throw to get him a lot of times," Girardi said. "That's the element that we love having."
A Derek Jeter groundout put Gardner 90 feet away with one out, and with the crowd of 46,046 standing in anticipation, the rookie catcher Cervelli shot the game-winning hit through the left side of the infield as Gardner raced home without a throw.
Fearing the slapping and belting he would soon get from Robinson Cano and Melky Cabrera, Cervelli touched first base and evaded a mob of Yankees by running into shallow right field, where he thoroughly celebrated before being hit with Burnett's T-shirt full of whipped cream.
"I was waiting a long time for that pie," said Cervelli, who told Edwar Ramirez in the bullpen earlier that he would get his first career game-winning hit. "It tasted good."
The Yankees got the benefit of an effective spot start from Chad Gaudin, who was filling in for Andy Pettitte, as the rotation stalwart was skipped a start to rest his fatigued left shoulder.
Though he wasn't as sharp as he has been in some of his other outings, Gaudin found his slider late and limited the Blue Jays to three runs on seven hits through 5 2/3 innings, walking one and striking out two, earning Girardi's praise as having given the Yankees a "great" start.
"It means a lot," Gaudin said. "It's always good to go out there and give your team a chance to win. That's what I'm here to do, and it's what I'm asked to do."
Jose Bautista opened the scoring for Toronto with a long solo homer in the third inning, his seventh, that struck a post adjacent to Monument Park in center field.
After Gaudin made a nifty stop behind his back on an Aaron Hill grounder up the middle, saving a run, Adam Lind notched a run-scoring groundout in the frame to bring home Travis Snider. But Gaudin said he left feeling confident that a comeback should be in the works.
"Honestly, no matter what, we'll always have a chance," Gaudin said. "That's how great our team is. The concentration and focus is there, so the score doesn't really matter."
Rod Barajas gave Toronto the lead with a sixth-inning grounder, and Lind added a sacrifice fly in the seventh to create a 4-2 advantage. The first two New York runs came off starter Brian Tallet, as Mark Teixeira doubled home Jeter and Matsui singled home the second run.
Tallet left after two innings with a right foot contusion, courtesy of a Cano grounder, and the Yankees' bats then rang hollow against the Toronto bullpen until Matsui's dinger.
One day after the Blue Jays and Yankees engaged in a pair of benches-clearing incidents that led to suspensions for three players, no warnings were issued and there were no signs of leftover ill will.
The only residual from previous nights was the Yankees' ability to keep pushing back late, their Major League-leading 48th come-from-behind win of the season.
The 14 walk-offs are the Bombers' most since they set a franchise record with 17 in 1943, and with one homestand left on the slate, there's little reason to bet against the idea that the mark might just be equaled by season's end.
"I think it's really possible if we keep playing like this," Matsui said. "As long as our pitching keeps the runs down like they have been, it's always going to give us a good chance to win."