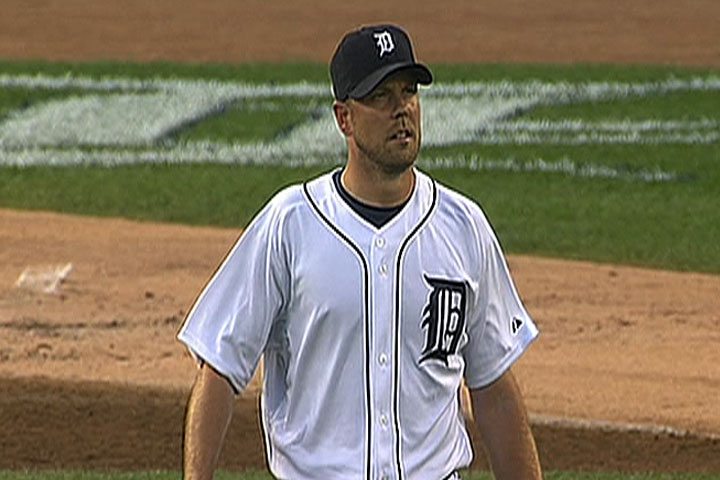 Tigers left-hander removed by staff after one inning
DETROIT -- Tigers left-hander Jarrod Washburn has tried. It's just not working out.
The gimpy left knee that he has pitched through for much of the season, with stellar results in Seattle, is finally having its revenge. It knocked him out of his start Tuesday against Kansas City after one miserable inning, and it might well leave him out of the Tigers' rotation for what remains of this season.
"Right now, it doesn't appear he's pitchable," manager Jim Leyland said after Tuesday's 11-1 loss.
Leyland and head athletic trainer Kevin Rand made the call to pull Washburn after the first inning Tuesday, having watched him limp around on his way to a four-run, three-hit inning that included two walks and a three-run homer from Alberto Callaspo. Even before Willie Bloomquist's slide home on a passed ball toppled Washburn at the plate, it was evident the knee wasn't right.
"He's a battler," Rand said. "But to me, his knee was sore, and I don't think it was allowing him to pitch the way he wanted to be able to pitch. Obviously, the fear from my end is I've got a guy whose knee is bothering him to the extent that I don't feel that he can throw his normal delivery and have a chance at success.
"From my standpoint, you're taking a risk with his arm, and I'm not willing to do that. That's how I felt."
The decision was out of Washburn's control, but he didn't argue. Realistically, he couldn't. He didn't say anything, but the knee bothered him soon after he started warming up in the bullpen prior to the game.
"It's just as bad, or maybe a little worse, than it's been," Washburn said. "The pain has been pretty bad, but it's never swelled up. And today after just one inning, it swelled up pretty bad. I don't know if something else got hurt in there or what.
"It's definitely not getting better. I've tried to pitch through it, and I'm not helping the team at all."
Both Washburn and Rand said the issue is instability on the medial, or inside, part of the knee. Rand said there's a pocket of inflammation around his the medial collateral ligament. An MRI exam taken last week showed no ligament or cartilage damage, and was much the same as another MRI that Mariners doctors conducted on the knee in May.
Washburn said he has been told the problem stems from an old injury to the anterior cruciate ligament, or ACL. Nobody knows when he hurt that, Washburn included, but the long-term effect has put more pressure on the MCL.
Washburn dealt with it well for most of the season in Seattle, with the exception of a start in May that was pushed back a few days. Since coming over to the Tigers in a July 31 trade, however, it hasn't worked out, and nothing doctors or trainers have done has helped. That includes a skipped start a few weeks ago and a cortisone injection last week.
Asked what the next step is, Washburn didn't know.
"We'll talk it over tomorrow, figure out a course of action and see what we can do," Washburn said. "We've tried everything. I don't know if there's anything more that we can try from a treatment standpoint or medication or shots or things like that. We've tried everything we can to try to get the pain out of there and put it at a tolerable level. Just nothing's worked right now."
Said Rand: "If you feel like he's not able to deliver the ball and he's not able to perform at the level he's accustomed to performing at, then I would worry about his career long-term. And I don't want him to hurt his arm. That's just where we're at."
Where the Tigers are in the rotation is just about as uncertain. Washburn's spot comes up again Sunday at Minnesota, so the Tigers can't simply skip him. Eddie Bonine is scheduled to start Wednesday in place of injured rihty Armando Galarraga, who was supposed to start in place of injured lefty Nate Robertson, who returned to the rotation after Galarraga was scratched due to injury late last month.
"I don't have answers on who we're going to pitch," Leyland said. "I have no idea right now. I don't have any answers for you. I wish I did. I don't have any answers for me."
Galarraga is available out of the bullpen now, but the inflammation in his right elbow won't allow him enough pitches to start. Robertson, who's battling pelvic inflammation, said he's slated to throw a side session Wednesday and hopes to be available in the bullpen from there. However, the Tigers might have to consider him for Sunday.
Then there's Zach Miner, who pitched two scoreless innings of relief in Washburn's place. However, Leyland doesn't want to move him back into a starting role.
"Zach will stay in the bullpen," Leyland said.