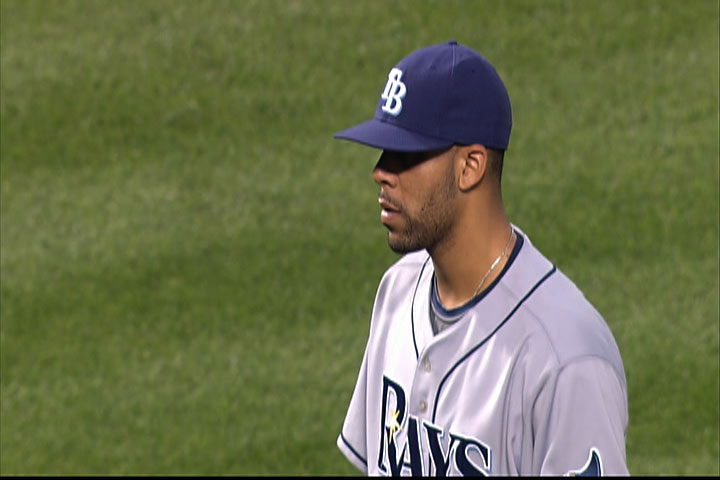 Price settles in, goes seven; Brignac 4-for-4, hits first HR
By Bill Chastain / MLB.com
BALTIMORE -- Everything came together for the Rays on Monday night, thanks largely to the performances of two rookies, as the Rays took an 8-4 win over the Orioles with a crowd of 10,628 watching at Camden Yards.
By winning, the Rays snapped an 11-game losing streak which dated back to an 8-5 win over the Red Sox at Tropicana Field on Sept. 2. In addition, the Rays gained ground in the Wild Card race over idle Boston, pulling back to within 12 games with 18 games remaining on the schedule.
"Sleep is more tranquil, food tastes better, and I like my dog a whole lot more," said Rays manager Joe Maddon when asked about the losing streak reaching its end. "We lost a lot of really difficult games.
"However, every day I thought we would come back and play, we would come back and play with the intent of winning the next day and not having that previous day impact us. We finally broke through."
Rookie left-hander David Price started for the Rays and survived a four-run first, in which he was dealt a ration of hard luck, to give the Rays a quality start by allowing three earned runs on seven hits in seven innings worked to pick up his eighth win of the season.
"I was just trying to keep us where we were at, and the offense did a great job tonight and fought back," Price said. "They got one for me early then I gave up four and they got three in the second. Kind of gives me a re-do and that's part of it, and it was very appreciated by me, obviously."
Meanwhile, fellow rookie Reid Brignac got a rare chance to start at shortstop with everyday shortstop Jason Bartlett serving as the designated hitter. Brignac took advantage of the opportunity with a 4-for-4 night that included his first Major League home run, a single, two doubles and three RBIs. Brignac also made a stellar play in the sixth when he went in the hole to rob Melvin Mora of a base hit.
"I'm very excited," Brignac said. "I'm more excited that we got the win that got us back on the right path of where we were. We've been struggling of late. It's just good to come in and get that win in the first game here. [Let's] see if we can continue on with that."
Brignac ripped his second double down the right-field line to where it initially appeared he had a chance for a triple, which would have earned him the distinction as the first Rays player in team history to hit for the cycle.
"At first [I thought I had the cycle], but once I rounded first [and saw where it was], I just shut it down and took a double instead of running into an out," Brignac said.
The Rays got busy early when Ben Zobrist's first-inning sacrifice fly gave them a 1-0 lead. But the Orioles answered in the bottom half of the inning against Price, who allowed four runs on four hits and a walk. A throwing error by Evan Longoria allowed a run to score.
Price didn't let the outcome of the first affect him. Orioles manager Dave Trembley credited Price for picking up the tempo of the game in his favor.
"His command improved," Trembley said. "And he probably felt the momentum change greatly to go on their side. Once we scored four and they go back out and score three, he's got to say to himself, 'Hey, I've got to go out there and shut them out because the game's swinging back in our favor.' And he did exactly what he had to do."
Unlike recent days when the Rays' offense managed just 23 runs during the team's 11-game losing streak, the bats never went silent Monday. The Rays' Nos. 1 and 2 hitters, Bartlett and Carl Crawford, and the Nos. 8 and 9 hitters, B.J. Upton and Brignac, went 11-for-19 in the game with four doubles, two home runs, five runs scored and five RBIs.
Brignac hit a two-run homer in the second off O's starter David Hernandez. Crawford added an RBI double to tie the score at 4.
In the fourth, Upton hit his 10th home run of the season, a solo shot off Hernandez that gave the Rays the lead. They added three more in the fifth on an RBI single by Akinori Iwamura, an RBI double by Brignac, and a two-error play by the Orioles' defense that allowed another run to score to push the lead to 8-4.