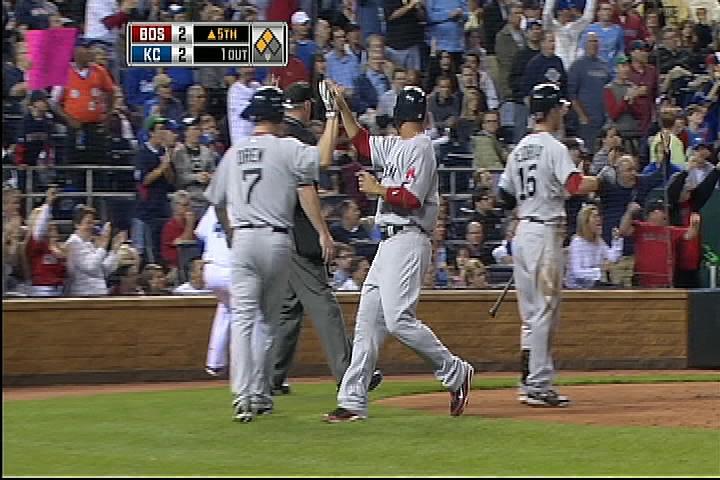 Six-run fifth seals the deal for ace's 16th victory of season
KANSAS CITY -- Just like Josh Beckett never sees any reason for enthusiasm when he turns in a dominant performance and loses, he probably won't apologize for nearly equaling his career high for hits allowed and still leading the Red Sox to a 9-2 victory over the Royals on Wednesday night at Kauffman Stadium.
Beckett's sole mission when he takes the ball for the Red Sox (90-61) is to win, and he navigated through some heavy traffic jams to do just that in this one, improving his record to 16-6 on the season.
It went in the books as a quality start for Beckett -- his 20th of the season. The ace scattered 12 hits, but he allowed two runs over six innings. He walked one and struck out seven, stranding 10 baserunners in the process. The only time Beckett allowed more hits in a game was Aug. 29, 2007, when the Yankees had 13 against him.
Paired with catcher Victor Martinez for just the second time, Beckett was hardly dominant. But he made pitches when he needed to, helping the Red Sox bounce back after losing the first two games of this four-game set.
Boston's magic number for clinching a postseason berth is down to five, and it could shrink to four by the end of the night pending the outcome of the Rangers-Athletics game in Oakland.
Trailing, 2-0, the Red Sox turned the game around for good by erupting for a six-spot against Luke Hochevar in the top of the fifth inning. With two on and one out, Jacoby Ellsbury belted a two-run triple to left to tie the game. Dustin Pedroia put the Red Sox ahead for good, ripping an RBI single up the middle.
Martinez extended his career-high hitting streak to 22 games with a single, tying Ellsbury for the longest streak by a Boston hitter this season. Kevin Youkilis walked to load the bases, and Jason Bay looped in a two-run single. David Ortiz capped the scoring in the six-run inning with an RBI single, giving Beckett a 6-2 lead.
The game was scoreless going into the bottom of the fourth, when the Royals rallied against Beckett. Yuniesky Betancourt struck a triple into the gap in left-center to make it a 1-0 game. David DeJesus drilled an RBI single up the middle, putting the Red Sox in a two-run hole. Beckett gave up 10 hits over the first four innings.