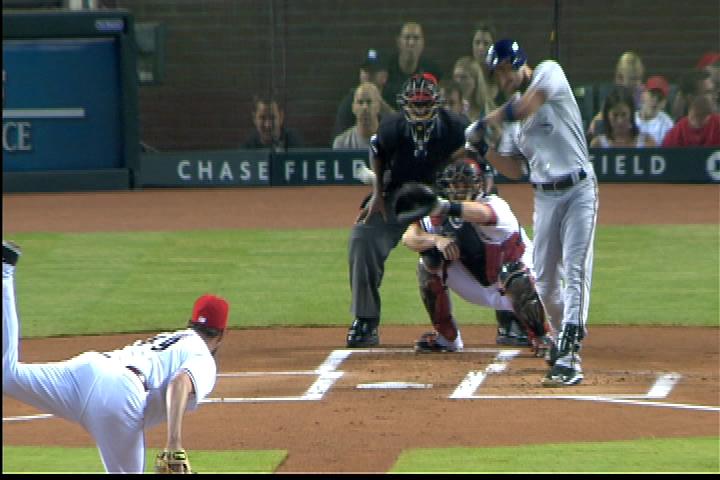 Outfielder tallies three RBIs in series-opening win
By Barry M. Bloom / MLB.com
PHOENIX -- Ryan Braun hit his 100th career homer and Felipe Lopez collected his 1,000th career hit, both in the first inning, to lead the Brewers in Friday night's 6-3 victory over the D-backs at Chase Field.
Lopez, a former D-back, opened the game with double off lefty Doug Davis, once a starter for Milwaukee. Two batters later, Braun launched a two-run home run to right, scoring Lopez and giving the Brewers a quick, 2-0, lead.
The homer for Braun came in his 400th game. He's the second fastest among active players to reach that mark behind Ryan Howard of the Phillies, whose 100th homer came in his 325th game. Howard now has 215 homers in 709 games. Braun, 25, is finishing his third season.
Braun added a third-inning RBI double and Lopez had a fourth-inning RBI single, chasing Davis. The Brewers knocked out Davis (7-13) with four consecutive singles to open the fourth. He allowed five runs on 11 hits. Arizona obtained the veteran pitcher from Milwaukee in six-player trade after the 2006 season
Lopez was recently sent from the D-backs to the Brewers on July 19 for two young players.
Right-hander Braden Looper (12-6) started for the Brewers and earned the victory, pitching 5 2/3 innings of three-run, eight-hit ball.
Barry M. Bloom is a national reporter for MLB.com. MLB reporter Matthew Leach contributed. This story was not subject to the approval of Major League Baseball or its clubs.